Once in a while you need to rejuvenate yourself by escaping the monotony of life. Working routine can be boring at times especially if you do the same thing on a daily basis. Which is the best way to enjoy life outside everyday routine? Mother Nature is inspiring because it creates an atmosphere that allows you to become part of another world. You need a quiet and peaceful environment that will allow you to relax and forget all your worries. This is where luxury tented camps come into play.
Some  have taken luxury tented camps  to the next level, and why not. Nothing better than pitching up to your destination without having to lift a finger, and still find your one with nature. Imagine you and your partner one gazing upon the stars, before you retreat to your luxury tent. How about breathing fresh air in a place where you are just surrounded by wild animals and bush? Such an experience is worth your hard earned money but you have to make informed decisions when choosing your luxury tented camp.
South Africa is endowed with a wide variety of natural sights such as forests, deserts, and game reserves. Several years ago, the words 'luxury tented camps' had little meaning because most people had not ventured into this field. Currently, there are numerous luxury tented camps in South Africa endowed with high quality and comfortable camping resources.
If you have never glamped before and you are looking for recommendations, this guide with be helpful. On the other hand, if you are looking for an outstanding getaway or a romantic break, try out these amazing luxury tented camps in South Africa.
---
Pafuri River Camp 
Photo courtesy of Pafuri River Camp 
This amazing luxury tented camp, is one that you need to visit. Pafuri River Camp is located in Makuleke Concession. Another important thing to note is that you can easily access Northern Kruger National Park. This camp is built along Luvuvhu River. It is the dream of many to build a house along a river banks. What is so exciting about such a location? You get to enjoy some sweet melodies from aquatic animals and enjoy a cool breeze. The atmosphere itself is great for meditation or romantic conversations. If you visit this place with your partner, you will probably overstay.
The concession lies between Luvuvhu and Limpopo rivers which are found in the north eastern frontier of South Africa. Between the two rivers, are amazing valleys that form incredible landscapes with numerous gorges and mountains. The valleys also give way to fever tree and baobab forests. Imagine talking a picture in such beautiful scenery. There is no doubt that the image can make an amazing wall hanging.
Photo courtesy of Pafuri River Camp
You are probably wondering whether wild animals can be found in such a campsite. The answer is a big 'yes'. It would be boring to be in such a beautiful surrounding without encountering wild animals. Animals roam any time of the day without any hindrance. This might be your golden opportunity to see an animal that you always see in magazines and books. Some of the animals found are elephants, hyenas, buffalo, and leopards.
Let's look at what makes it a luxurious holiday destination. The campsite has nineteen designer thatched tents that offer a mind-blowing view of the surrounding. This tented camp offers is fully serviced with three meals on daily basis. If you want to camp with you children, this place is ideal for you because it has seven family tents. Do you like swimming? Well, a swimming pool is available for you to enjoy what you love. Also, there is a bush bar and dining area where you can have a drink with friends. If you like cultural vibes visit Makuleke villages and enjoy traditional meals, foods, and songs.
Get more info about Pafuri River Camp here
---
Springbok Lodge
Photo courtesy of Springbok Lodge
Springbok Lodge is located in Nambiti Private Game Reserve. The best thing about it is that there is a wide range of features and facilities to enjoy. Wild animals are in plenty. The facilities have spacious elevated tents that include features such as heating, outdoor showers, air-conditioning, and private decks. Another thing that you will fall in love with is the in massage room. You can as well enjoy your time at the pool without disturbance. Each day, you are entitled to two games drives. For amazing events such as weddings and conferences, this is the right place because it has room for forty guests.
You are probably wondering what activities you can carry out in such a luxury campsite. You will be spoilt for choice because you can go swimming, bird watching, game drive, play golf, game viewing, cultural tours, horse riding, and hiking. Apart from secure parking, services such as laundry, airport transfers, and tours are arranged. Children of all ages are as well welcomed.
Get more info about Springbok Lodge here
---
Summerfields Rose Retreat
Photo courtesy of Summerfields Rose Retreat
You can never go wrong enjoying your precious time in this tented lodge that has maintained its legacy for a long time. Once you spend a few days in Summerfields Rose Retreat, you will struggle leaving it because the environment absorbs you completely such that you feel as part of it. It has a splendid 100-hectare macadamia farm that is full of granadilla vines and the beautiful litchi trees.
We cannot talk about luxury tented camps without having a close look at what facilities are available in these tents. Summerfiels Rose Retreat offers tents that are specially designed for romance. For instance, you can choose a tent with a king-size bed located next to a gurgling river. Alternatively, if you want a quiet place, there are tents at the heart of the forest. Once you get inside these tents, you will realize that there is something that has always been missing.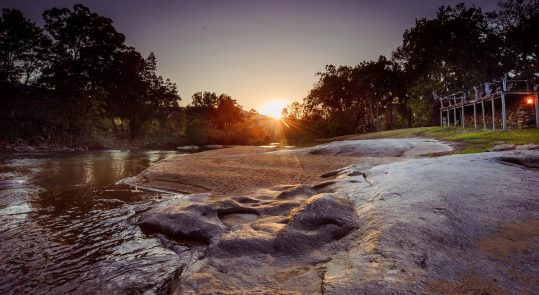 Photo courtesy of Summerfields Rose Retreat
The camping site has two restaurants that use vegetables grown on same property to prepare delicious meals. The roses that are sprinkled on walkways and different corners make this place special. Looking at the deck, you will fall in love with the heart shapes of the sprinkled flowers. Other interesting facilities are the pool area and the communal lounge.
In case you are wondering what other captivating things they offer, relax and explore. Expect luxury offers such as plush downy duvets, snacky treats, indigenous forest atmosphere, filter coffee, and Charlotte Rhys toiletries. Summerfields Rose Retreat has a Spa that is made of Balinese-Style rooms next to Sabie River. The wooden private rooms are perfect for couples. You can as well get Summer Rose Quartz treatment that makes use of both cold and hot stones to massage muscles. Your soul will be melted by this treatment. You can as well sip a cup of cinnamon tea while having a conversation with someone on the river deck.
Get more info about Summerfields Rose Retreat here
---
Stanford Hills
Photo courtesy of Stanford Hills
Stanford Hills camp offers an incredible view of untouched countryside. The campsite is located between a protea plantation and vineyards. Additionally, you can have a good view of Klein River Mountains. The unoccupied surrounding makes this environment serene. If you know the benefits of meditation, you may want to try it in this place.
Let's look at what makes the tents uncommon. The facility has elevated tents overlooking a dam. Each of these tents has a private deck, lounging chairs, and a braai place. From the tents, there is no doubt that you will enjoy the beautiful sunset. In you love swimming; this is a great camping site for you. The damn that is just next to the tents is used for bass fishing and swimming. How about the kitchen? The tents are equipped with modern equipment. Inside the tents is a cool and quiet atmosphere that encourages deep conversations and reading. You will also have a sound sleep because the beds are large and comfortable.
Photo courtesy of Stanford Hills
Water that runs out of the taps comes from the mountains. Even though it is tea-colored, it is clean and safe for consumption. Another amazing feature that makes these tents special is that breakfast is served to everyone and delivered in a basket to every door. They say that you should take a heavy breakfast, and Staford Hills does not compromise on the quality of food they offer in the morning. Breakfast includes morning treats like juice, sausages, milk, yoghurt, bacon, and eggs. Also note that braai packs are available with orders. However, you should order them separately.
Get more info about Stanford Hills here
---
Gorah Elephant Camp
Photo courtesy of Gorah Elephant Camp
The thrill of watching wild animals while sipping wine or your favorite drink is inexplicable. This campsite captures a romantic mystique of nature. If you want to experience a breathtaking African safari, get yourself to this place. The facilities are fused with modern sophistication to offer a 5 star adventure. Gorah is a campsite that is located an area with the largest number of elephants on earth. Of course you would like to be associated with such a place. The surrounding is not only a home for elephants but the rest of big five animals.
Discover the beauty of the dynamic African landscape and a wide range of wild animals. You will also have the opportunity to learn more from the area's cultural diversity. The campsite has a professional team of highly knowledgeable and passionate guide who will answer all your questions. If you would like the excitement of discovering animals such as lions, rhinos, and leopards, visit this camp.
Photo courtesy of Gorah Elephant Camp
Busk in the sun as you read and enjoy your drink. You can as well share your experiences and adventures while relaxing in shades and verandas which are next to the luxurious swimming pool. Other amazing features include Wi-Fi access, boma area, and a curio store. It is important that you also buy art for memory purposes.
This campsite has eleven stylish tented suites that are not only spacious but also luxurious. The surrounding creates the historic 1900s era. Each tent has a deck that allows you to have a good view of the natural scenery. There is also a king sized bed to give you the comfort you need.
Get more info about Gorah Elephant Camp here
---
Maerua Luxury Safari Tents
Photo courtesy of Maerua Luxury Safari Tents
As you travel about 80 kilometers East of Nelspruit, you will be welcomed a heavy traffic of wildlife. As soon as you reach Maerua camp, you will see impala, francolins, kudus, and zebras among other animals. If you have a camera, you should capture this memorable moment. As you continue exploring, you will realize that there are stone paths and thatched roofs. Again, this place seems suitable for group getaways.
Let us have a look at inside these luxury tented camps. The tents have a plunge pool, a bar, a dining room, and a kitchen that is fully equipped. If you plan to camp with your family, these tents are spacious to give room for more people. Mopane and Thonningii tents have king-size beds. You can also have a good view of the water hole and the bush from the tents. Each tent is also equipped with a coffee station, fridge, and a bathroom.
.
The raised tents are located adjacent to a waterhole. The special thing about this site is that the tents are specially designed in such a way that guests feel connected to the ancient sweltering desert. Drink your wine as you sit on the wooden deck of the tents. The swimming pool is also a noteworthy feature, and needed when in a desert.
Get more info about Maerua Camp here
---
Tanda Tula
Photo courtesy of Tanda Tula
12 beautiful tents set in a stunning location overlooking the dry Nhlaralumi river. Set in the heart of the Timbavati Private Nature Reserve, part of the Greater Kruger National Park , in 1976 Tanda Tula Safari Camp became the first East African styled, luxury tented safari camp in South Africa.
This luxury tented camp features the famous 'Big Five'. Game Drives, Guided Safari Walks and Bush Dining will leave you long lasting memories. You certainly will very well looked after by this team at Tanda Tula with first class service. If your looking for a camp that gives back to the community, Tanda Tula do just this with a foundation that benefits their staff and family's.
Photo courtesy of Tanda Tula
Tanda Tula is based in a low risk malaria area, but still recommended to take anti-malaria medication.
Get more info about Tanda Tula here
&Beyond Ngala Tented Camp
Photo courtesy of &Beyond
Ngala is a true safari experience with in a private  reserve. boarding the kruger national park, this luxury tented camp certainly wont disappoint. Having the big five,  game drives morning and evening, bush and walking safaris you are sure to catch some of africa's finest wild animals.
Photo courtesy of &Beyond
With 9 of the most luxurious tents, there wont be anything you need. Set overlooking the Timbavati river on raised platforms, enjoy a refreshing drink on your private desk.
Enough said about Ngala. Let the images immerse you in luxury.
If you have made up your mind already…more info about Ngala here
Photo courtesy of &Beyond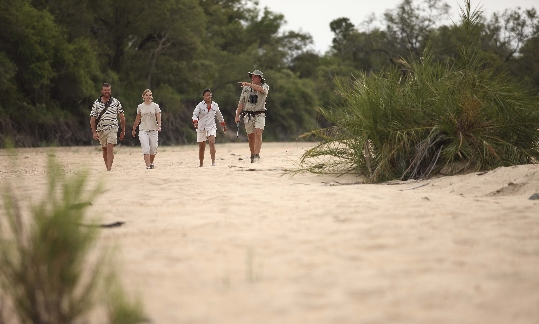 Photo courtesy of &Beyond
Photo courtesy of &Beyond
Ngala is in  malaria area, recommended to take anti-malaria medication.
---
Been to one of these luxury tented camps? Why not leave a comment or tell us an adventure you had while away. Have a look at some more featured tented camps. If you just looking for a cool new campsite,
have a look at these campsites in South Africa