Taking a break from daily routines is a great thing to do. The question is, what do you do when you take such a break from work? There are a wide range of activities that people carry out during holidays which include camping and traveling. Camping is a great option because it takes you to a completely different setting that makes you appreciate other things in life. If you have camped before, you know that it is difficult to express the camping feeling in words. However, you just don't visit a random place and decide to camp there for a few days. There are a couple of things that you should take into consideration to ensure that you get the best camping experience.
The Western Cape has numerous natural places where you can take your family for holiday or a special treat. What is so special about camping Western Cape? Western Cape is known for beautiful vineyards,  wine production and nature reserves. Also, we cannot exhaust the number of impressive physical sites, wildlife, and camps. If you love wine, you need to camp in Western Cape for the best experience. Let us look at some of the best places for camping Western Cape.
Image courtesy of Dwarsberg Trout Hideaway
This tranquil site is located adjacent to Holsloot River which is just less than 15 kilometers to the south of Rawsonville. Interestingly, all campsites in Dwarsberg Trout Hideaway are private. Also, the campsites have private ablutions and separate lush green lawns. If you love fishing and enjoying your drink next to a river, you will love being in this place. Holsloot River has trout. Carry your fishing gear and try out fishing. You might discover a new hobby. Mountain trails are also available for sport activities such as biking. If you are a fan of sport events such as rugby and football, you will not be left out. If your favorite team is playing, Dstv and a big screen are all available to ensure that you enjoy games.
There are five self-catering cottages and 11 private cottages. If you plan to camp as a group of friends or workmates, there are enough facilities for you. Electricity is available in some places so you don't have to worry much about lighting. Braai facilities are also provided at Dwarsberg Trout Hideaway. For group activities, Braai spots are suitable for long conversations and other enjoyable moments. You can also visit nearby farms for wine testing.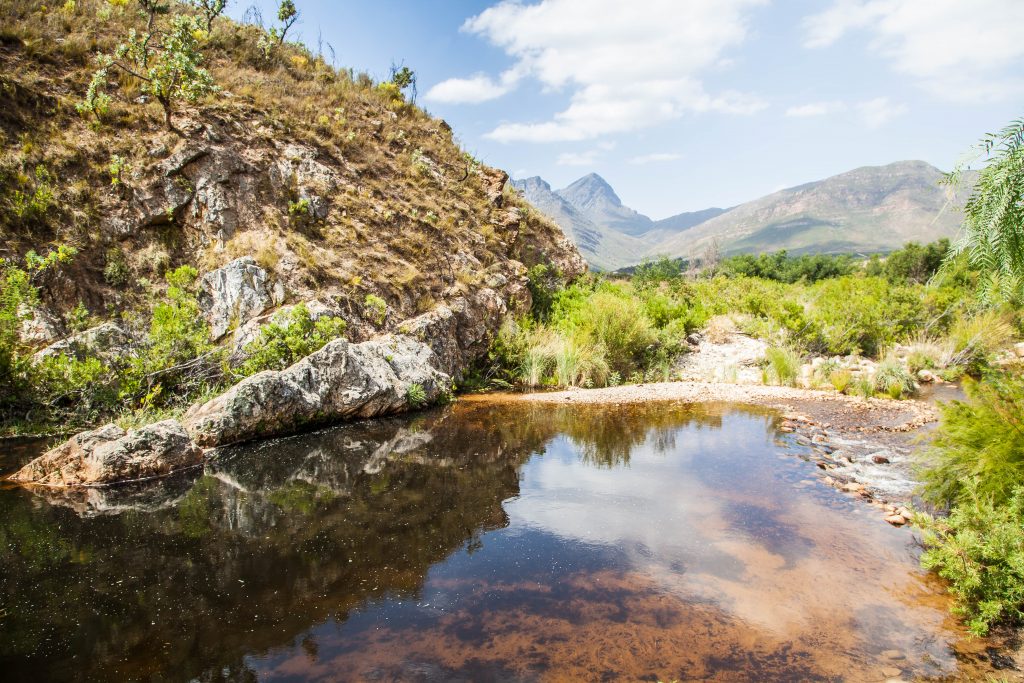 Image courtesy of Dwarsberg Trout Hideaway
It is worth noting that this campsite is an active farm. If you look around, you will see the irrigation pump located at campsite 1. If you need a quiet place, book a campsite that is far from the irrigation pump. For weekend bookings, the management provides two free bags of wood each night. The cost varies depending on the number of guests. For the lowest charges, it is advisable that you camp as a group.
2.      Oewerzicht, Greyton
Image courtesy of Oewerzicht
Watching the sunset from Oewerzicht is one of the most beautiful things in South Africa. The view of mountains and trees make it extra special. Bring your camera and take pictures to capture such wonderful moments. The stunning scenery will not only keep you entertained but will also make you feel at peace and relaxed. Other activities that you will probably enjoy are canoeing and fishing that can be carried out in Riviersonderend River. This river flows near the campground so you don't need to travel for long. Do you love mountain fun activities such as biking and hiking camping Western Cape? Don't just focus on enjoying moments at the campsites, go to the surrounding farmlands and try out such activities. For more activities, you may try tractor rides, tubing, and swimming.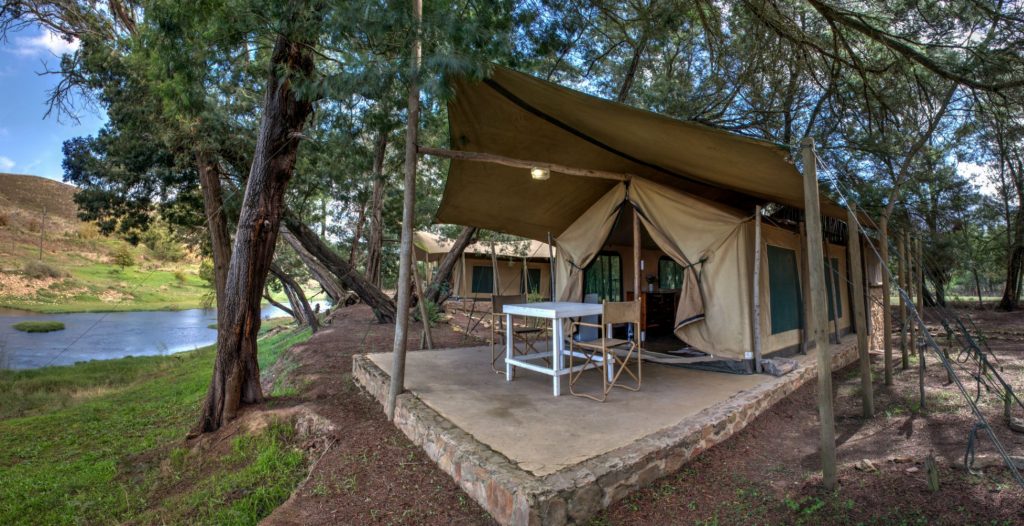 Image courtesy of Oewerzicht
If you are looking for luxury camping sites, this place will not disappoint you. There are modern ablutions and first class facilities. There are a total of 25 stands with safari tents and several cottages. Braai facilities are available so it is advisable that you bring a grid. Cook meat of your choice in the best way you can as you hold talks with those who accompany you. Scattered trees provide shade but it is recommended that you carry umbrellas for more shade. If you need to do your shopping, Greyton is just nearby.
Image courtesy of Cape Nature
Nature is always inspiring and Cape Nature camp offers amazing services. For activities such as watching birdlife and other wild animals, get yourself to grootvaderbosch and enjoy what nature has to offer. Are you planning for honeymoon or a remarkable family holiday?  Visit Grootvadersbos and enjoy magical mountain views.
The main attractions at grootvaderbosch are birding and Hiking. If you plan to camp with friends or workmates, you can never get bored in this place because you will be spoilt for choices of the activities that you can carry out. There campsite is neat and well organized to ensure that you enjoy your stay. Ablutions were recently renovated to offer modern and first class services.
Image courtesy of Cape Nature
There are twelve self-catering cottages. Group camping at Cape Nature is thus a fun thing to do. Electricity is available throughout the day. You are also advised to bring grids to use the braai facilities. Do not bring pets because the management does not allow. You can as well enjoy overnight hikes with your friends into Boosmansbos Wilderness Area. Local and short trails are also available so enjoy your stay to the maximum.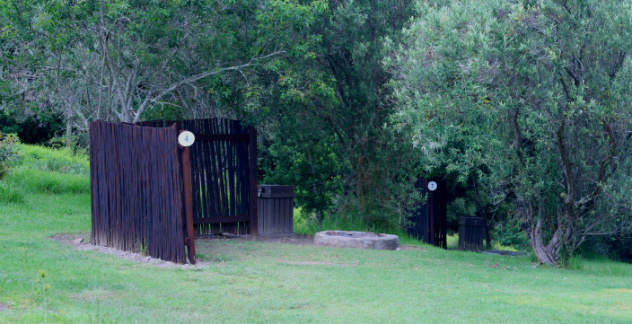 Image courtesy of Cape Nature
It is important to always understand the weather of a place you want to visit. This mostly applies to those who are asthmatic or suffering from cold-related illnesses. Grootvadersbos experiences high rainfall so ensure that you are informed about the weather of the area for the next few days. If you seek luxury camping, ensure that you book self-catering cottages. Like most other campsites, the cost depends on the number of people booking.
4. Gamkaberg Nature Reserve, Oudtshoorn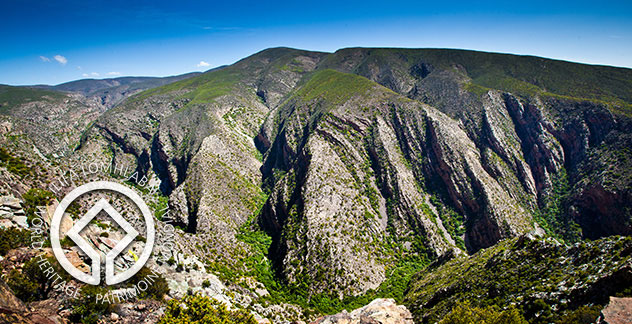 Image courtesy of Cape Nature
Interestingly, the name of this campsite was derived from Khoikhoi language. Most of the guests who have camped here before have loved the nature reserve because of the serene surrounding. The calm landscape makes you forget about your daily struggles at work. You will definitely appreciate nature and fall in love with it. Who hates spending time watching wild animals interacting in their natural habitat? You will have the opportunity to see different types of wild animals such as aardvarks, antelopes, and Cape Mountain Zebras among others. You will enjoy watching animals feed, mate, or fight which are priceless moments.
To access Ou Kraal, you can only do it through hiking. Alternatively, you can access the campsite by a 4by4. Driving in this rugged terrain is fun because you escape into nature while enjoying a unique view of the surrounding. The Kraal Campsite has a water tank, ablution facilities, and a braai grid that is provided upon request by guests. The campsite also has herder huts with comfortable beds and mattresses. Each of the beds is suitable for people meaning that you can enjoy a good time with your loved one without them necessarily booking a separate facility.
Image courtesy of Cape Nature
Gamkaberg Campsite is also the other area of interest in this area. A maximum of four people can sleep in each campsite. Since electricity is provided, you will enjoy good lighting at night and also charge your electronics. Most people are afraid of cold showers. You might be one of them. You shouldn't be worried about it because there is a solar heated shower. Some people believe that camping should always involve roasting meat and cooking activities. Braai facilities are available for you to experiment and enjoy your cooking skills. There is also a picnic area in case you want to prepare small parties. Walking and hiking trails both during the night and the day are available so you can stay busy throughout if you find it suitable.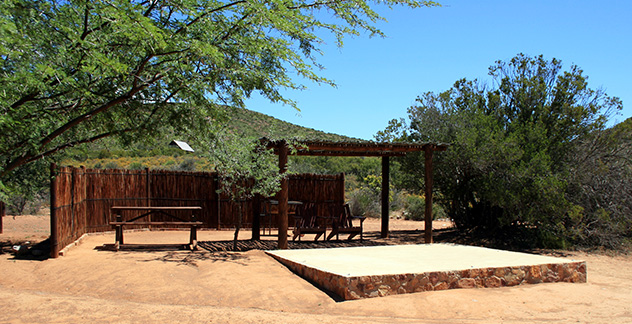 Image courtesy of Cape Nature
Image courtesy of Cape Nature
5. Houdenbek, Op-die-Berg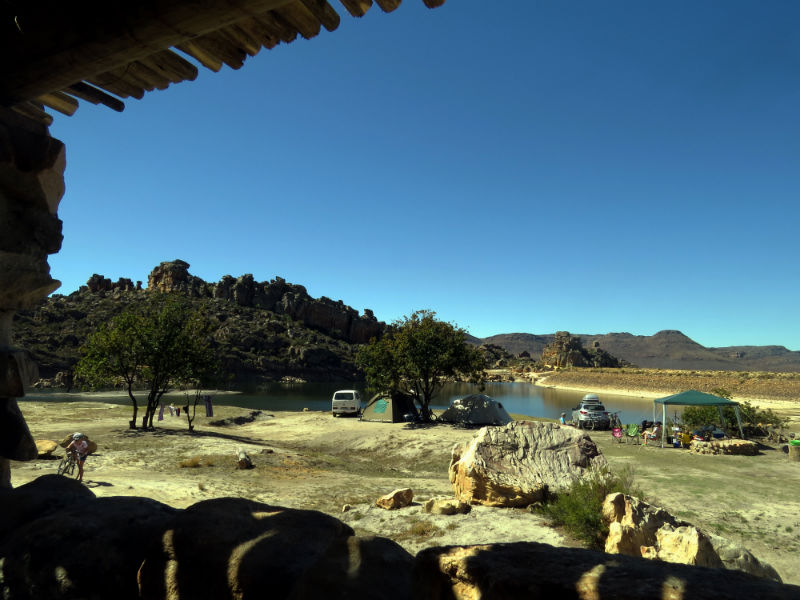 Image courtesy of Houdenbek
What about the sight of naturally curved rocks? Houdenbek has numerous fascinating spots and the surrounding looks refreshing. The rugged beauty of the nearby dam is quite pleasant as well. All you have to do is to pitch a tent as you prepare for a good time. At night, you can light fire and discuss with your lover about your future. It must be an amazing feeling having a deep conversation while watching the stars at night. During the hot day, go swim and relax as you stay away from the monotonous daily routine at work.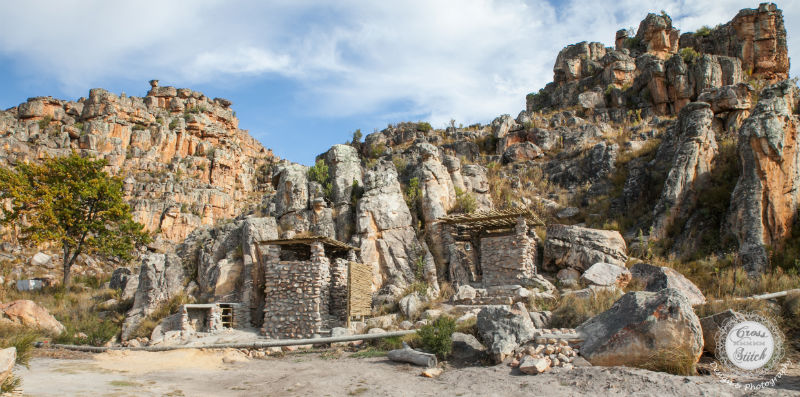 Image courtesy of Houdenbek
If you love mountain climbing and biking, you will not get enough of it at Houdenbek because the landscape is suitable for such activities. There is one private stand and two self service cottages. If you want private camping, choose whichever you find suitable for you. Do not go a day without taking a shower due to fear of cold water, a hot shower is available although there is no electricity. This campsite is different from most because it provides both braai facilities and grids to guests. You may need to carry umbrellas and gazebos for extra shade. Also note that pets are strictly not allowed in this campsite. While hiking during the day, you will marvel the rock paintings. If you are bold enough, you should try out rock climbing.