So your planning a completely off grid camping experience, and looking for a decent camping shower. Some may rough it and go without, while others may prefer to clean up. Camping is not all rest and relax, the initial pack, drive,  hike and camp setup is hard work.
What Ive come to realize is, we are very spoilt at home with hot running water at the turn of a leaver. Some preparation and thought will make your camping shower oh so much more enjoyable. Being clean just makes that camping experience a little more pleasant for some. Following this camping shower review , you'll be in a better place before making your choice.
Items to consider for your camping shower.
There a few different type of camping showers and i'll look to go over one of each type, regardless you will still have to consider the following and what you want out of a camping shower and what your willing to spend.
Camping Showers almost resembles a Navy Shower. Not lasting more than 2 minutes,  30 seconds to get wet, pause the water, soap up, then rinse, using on average 11 litres of water.
1. Water Supply – You either need to take all your water with you , or find a water supply that you can use. This is one of the key factors on the length of your shower.
2. Heat – How to heat your water. Unless its a scorcher of a day. You can get off with a cold shower, but no one likes having the hot water run out on them mid shower.
3. Power Source – A number of items here require a power source and or for charging.
4. Privacy –  Bothered or not? Do you really need that Shower tent?
Your top camping shower reviewed.
I'm going to split these up into different categories here are some quick links
To note, this page contains no affiliate links.
Solar Camping Shower
Milestone Camping Solar Shower – Black, 20 Liters

Features:
Made Of Non-Toxic Resistant PVC Material

Flexible Tube, Tab & Shower Head With On/Off Control

Simply Fill With Water And Place In Sunlight For Solar Heating Of Water

Can heat up to 40degrees in just 3 hours

5 Gallons/20 Liters
Review:
These solar camping showers are pretty generic, it feels like they have been mass produced in a Chinese factory and rebranded. Never the less, they do the trick. Reading up on these , most people full the bag up and keep it on their dash or back board of their car, when full 20L is a hefty weight.
Also give it a rinse before fist time use, complaints of heavy plastic smell, might leave you wishing you did not buy this solar camping shower.
Its advised you only hang this up when you need to use it, the weight of 20kg's in the sun all day, may send this solar camping shower to the dustbin sooner than later.
With 3 hours of heating, the water can reach temperatures of 40 degrees. This being once of the least expensive items, it may be worth buying a couple.
Below are some online stores where you can pick this up. Different brands, same simple concept.
Where to buy
Advanced Elements Summer Premium Quality Shower
Features:
Premium quality

Extra large filling valve with convenient twist off cap

Durable 4-layer construction

Water temperature gauge

Size: 9 liters
Review:
It has a large valve for fulling the bag up, if you out of luck with no sun you could fill it up with some preheated water. Taking 9 L of water your not going to struggle to hand this up above your head.  With 4.7 out of 5 stars and 20 reviews. This is a good buy.
Where to Buy
Motorized Camping shower
Natural Instinct High Volume Camp Shower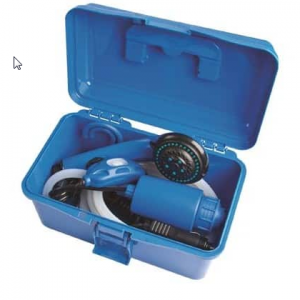 Features:
Included storage case
3 Different settings and water flow can be adjusted
Silicone hose lenth: 2m
Flow shut off at shower head
Water flow rate: 6L per minute (avg)
Power supply: 12VDC at 2.5A
Power cord Lenth: 5m
Review:
Natural Instincts could have done better here, Your out doors , off grid. And you now you need to source a power supply aswell. Could do with a built in battery. At R800. I find this on the high side for the value. A plus point is the handy travel case, generally camping you want a case to protect and pack away neatly.
Also still need to find a source of water for this shower. This may be better suited for a trip down to the beach and to rinse off, or washing the dog at home, since your have a power source close by.
Most of these motorized camping showers you will need a water source, this may be a portable folding bucket, portable container or jerry can. Please bear in mind the size of the opening if you use a jerry can , compared to the size of the motor. You will want to check this before you buy and better yet, test before you leave on your adventure.
Where to buy
Suaoki Portable Camping Shower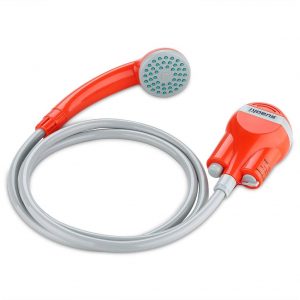 Features:

Unit consists of a powerful shower pump, a delicate shower head, a suction cap, a S-hook and a 1.8 meters hose and more, which ensures its mobility and flexibility while using

 the mini shower features a fast and accessible USB charging mode from your car, power bank and laptop, and the 2200mAh rechargeable battery is able to work for 60 minutes after a full charge

 Just turn on the button and put the shower pump underneath water, and your mini shower is ready to use

 One button switch, the suction cup and hanging hook enable you to use this item anywhere indoors or outdoors, the 100% waterproof pump and water filtration system guarantee the clean water for secure usage

 The unit is not heavy at all while carrying and small enough to fit in your bags or your car trunk; perfect for caravan, bath, showering, dog,  plants, watering, motor home hiking garden backyard bathroom
with a rating of 4.6 out of 5 on amazon.co.uk and 121 reviews, this is a best seller.
Review:
Considering this ticks most of the boxes and with a great rating on Amazon, your still going to be left cold after using this camping shower unless you find a warm water supply.
As mentioned above, remember to check the size of the opening if using a jerry can or similar container.
Where to buy:
Gas Camping Showers
Kariba Combo – K1-EI 4.1L

Features:
Gas Heating Unit
12v pump
Hose
Shower Head
Ambient Water to 45 degrees
Manual Heat Control
4.1l per minute flow
Independent Slide out burner for cooking
Review:
The Kariba K1-EI 4.1L is the full monty of camping showers. For the rugged off roader or long camping tip or larger groups this is leader in it class when it comes to camping showers.
The main advantage of this camping shower, hot water until your gas runs out depending on your water supply.
Doubling as cooker unit, you have a source for cooking as well.
You will need a gas supply, water bucket or hose pipe and 12v power supply. This device is the top end device and the price matches this aswell.
Where to Buy:
Camping Shower Cubicle
I'm not going to go into too much details here. It it what it is. privacy or no privacy, I would look to shower in a costume if no cubical was around.
If you do need a Camping Shower Cubicle, what you really want is something quick to setup if you going to be moving around from campsite to campsite. You also want something strong enough to hold the weight of your choice of camp shower.
Compact Camping bucket\Folding Camping Bucket.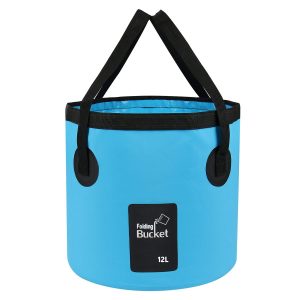 Here is an example of a folding bucket. Only requirement is here is that it remains upright when full and  not holding the handles. Second thing to take into consideration, the weight when full, this is a 12l so your heaving 12kgs, while this is manageable, 20L bucket might not be, consider the size you need and the distance you need to carry it.
Where to buy
Camping Showers Review Conclusion
Summing this up. Getting clean while away has its challenges. Each Camping Shower here has a set purpose. If your camping for a day or two and its just you and a mate. Get the solar camping shower.
Easy to setup, cheap and if its a sunny day , your going to have a warm shower.
Going on an expedition with a group of friends, get the gas camping shower, spend the bucks and make an investment.
If you don't mind a cold shower get the motorized camping shower. Also good for cleaning items.
If you have any experiences or challenges or homemade devices we would love to hear about it.
Why not have a look around at some of  the best camping sites in south africa or our tented camps where its all setup for you.