Ok so let's take a moment and step back….
Although "vintage" implies older than "retro" merely describing something as "Vintage" or "retro" really does not mean much unless it's qualified by some sort of period.
For example 1930's vintage stove, or 1960 to 1970's retro tent.
And so we come to, my 40 year wait..
Back in the late 70's the cream of the crop of hiking tents was this little fella, the Backpacker's Kestrel ridge tent.
Now, from a design point, I've always been a fan of the ridge tent.
Made from rip-stop nylon, The slope of the roof is steep, creating quick water run-off. The fly goes all the way to the ground with 250 mm gap between the inner & the flysheet which leads water off and away from the inner. (Just a small trench round the tent and a run off gully, will stop the water from running under the tent), not that that would be a problem, this guy's got a solid "bathtub" floor (not a poly-woven one) that's been impregnated.
it also has a useful sized vestibule on both sides for gear stowage, and, having a solid ridge pole, it does not sag between the front & rear upright.
The poles are ingeniously designed so that all the sections fit one into each other.
Almost bomb-proof, a true 4 season's tent, this champ saw me through 3 consecutive days of severe buffeting winds in the berg.
Unfortunately, somewhere around the turn of the century, my son thought the fly sheet would make a right dandy cover for a boat motor he was trying to fix, and so my beloved tent, with it's huge oil stain was consigned to the bin…..
In the meantime, Backpacker stopped making them, and they have literally become as scarce as hen's teeth.
Still today, Hiker's in the know that are heading for turbulent weather, look to get their hands on one
Never forgot that tent…..
A bit on the heavy side, at 500g (with 26 short steel pegs), but if your group is more than yourself the weight can be divided up.
Well, about 5 years ago, I picked up this one through the junk mail. Believe me when I say I went directly to the seller, did not even pass go.
And here is how these things work out.
All of 40 years later, I'm squizzing round the big market in De deur, and I spot a tent bag…..
Now I know a thing or three, so I ask "what's in the bag" ?
"Don't know but you can have it for R200"
"Having now fixed the price, "Mind if I look" Says I………… But now I'm caught between possibly pushing the price up & not wanting to waste money, so I quickly open the bag, pull out the poles and the inner and
BINGO! EXACTLY as I thought it was ANOTHER, now almost unobtainable, Backpacker Kestrel III (but this one is brown)
How's that for luck!
Since then, I've modified the front pole from a single upright pole to a A pole so that, at 60 years of age, I can get in and out easier, come the 02:00 widdle waddle!
Preddy-bros
What's so special about this vintage tent is that many of us grew into camping with just such a tent, and it evokes many fond memories in many of us.
This is a Preddy-bros version, and may or may not have been issued with
wooden pegs.
The adaptation to roll up the sides is of my own doing, cribbed from
another tent that I once saw that this could be done. It was a "done at
the dam" modification, but I have sisal rope in my store room and I'll
re-do it to keep it in "period"
In my humble opinion, the "cottage tent" with a ridge pole, is the most
wind resistant design and the slope of the roof makes for quick water
run-off and therefore one of the most waterproof designs. The downside
is that it's not very space efficient as you should put the bedding in
the middle of the tent, away from the sides.
Properly pegged, this tent will endure, when most other's will have
catastrophically failed.
with the sides rolled up, it makes a very nice Gazeebo, as the shade
stay's pretty much central and in the same place, unlike a conventional
gazeebo,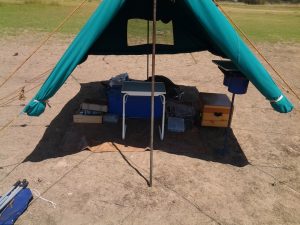 Here I deployed it as a fishing tackle store & workspace right next to the water at Bloemhof dam.
Bivy Tent – Sea-King Injusuti
Here we have what is called a bivy-tent (slopes down atthe back) it is a sea-king Injusuti,  and it also has the same structure at the front (comes standard). Now back in the 70's Sea king was what Campmaster is today, and my tent collection shows the progression and design elements from the early 1960's to modern day with flexible poles….
Images and Story courtesy of Warren De Jager. I'm not going to fuss with a long bio. Warren is a serious camper who owns 27 tents. That sum's it up.